5 athletes who successfully transitioned into politics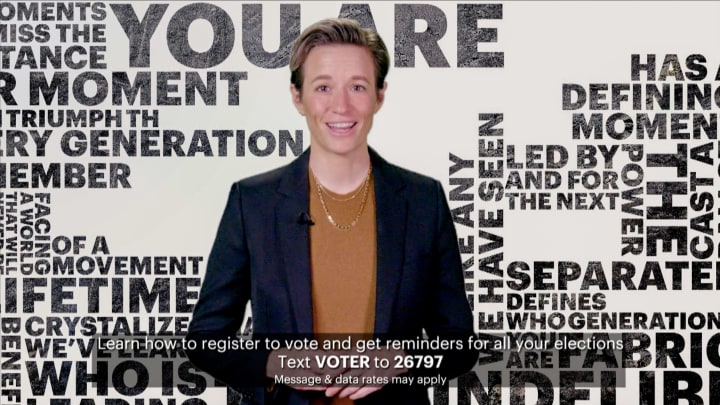 California Governor Megan Rapinoe / Getty Images/Getty Images
A wave of political activism has swept the nation and these athletes have successfully leveraged their sports platforms into a seat at the table.
1. Megan Rapinoe
As we close in on 10 years since she led the US Women's Soccer team's push for equal pay, Megan Rapinoe is up for re-election as governor of California. In her first term, Rapinoe made tremendous strides in ensuring equality for women, the LGBTQIA, and other disenfranchised communities in her state. Since her longtime girlfriend, now six-time WNBA champion Sue Bird joined the LA Sparks a few years ago, Bird has become the highest-paid female athlete in the world.
2. Tom Brady
Though most of us thought that Tom Brady would attempt to pivot into acting since retiring from the Tamp Bay Buccaneers, he instead chose another arena. After claiming that he wasn't going to do "anything political" almost a decade ago, Brady has made his way into Congress, serving as a House Representative in Florida's 14th Congressional District by winning over the hearts and minds of Tampa's retired population. Even though he's spent the majority of his time on golf courses, blowing budgets on expensive dinner parties and guest appearances, Brady has managed to introduce the TB K-12 Super Food Act to help promote healthy eating habits among Florida's youth. His attempt to remove all vending machines from Florida's school systems caused a little bit of backlash initially, but his constituents became much more receptive to the idea after Brady stressed the importance of his all-organic, plant-based diet to his Super Bowl success.
3. Maya Moore
In the wake of winning four WNBA championship rings and an MVP award with the Minnesota Lynx, Maya Moore put her basketball career on hold in 2019 to focus on ministry and social justice reform. After freeing her now-husband, Jonathan Irons, after a wrongful conviction, Moore went on to pursue a career as a criminal defense attorney in her home state of Georgia. She has continued to represent clients in addition to her ongoing advocacy work. Her daughter is just 10 years old and already garnering Division I basketball interest from the likes of Moore's alma mater UCONN and many others.
4. Metta World Peace
After a brief stint on the LeBron James-led Los Angeles Lakers coaching staff, Metta World Peace decided to put basketball behind him for good and transition into politics to affect the kind of change he wanted to see. His rebrand to MWP post Malice in the Palace was one of the more impressive turnarounds sports has ever seen. His willingness to open up about his mental health issues was seen as admirable and he's wildly popular among his constituents in New York's 12th Congressional District, where he continues to represent Queensbridge.
5. Yadier Molina
Growing tired of calling for the resignations of corrupt governors of Puerto Rico, Yadier Molina finished up his career with the St. Louis Cardinals and returned home to do the job himself. For the past several years Molina has dedicated his time in the governor's seat to pushing for the statehood of his beloved Puerto Rico. Still an unincorporated territory, Puerto Rico had seen endless protests and civil unrest before Molina assumed his role as governor. Now in his second term, Molina has taken grade strides to improve the morale of the territory and is currently working with President Ocasio-Cortez to ensure Puerto Rico's statehood this decade.